"Etruscans: Pilgrims in Eternity"
Enit Italia, Toscana promozione, Altair-TV, Cultural association New Acropolis, 2006

"When wonderful fields and hills, cypresses and clouds high in the sky keep silent in the rays of the midnight sun, the murmur of the tiny brook speaks to us. Other voices and sounds join this murmur. They are unnumerous. They belong to lucumons, augurs, artists, musicians, soldiers and beautiful ladies, who passed away more then 2.5 thousand years ago in a silence of their coupless tombs. These are the voices of the people who are to will power of these lands" (the passage from the script).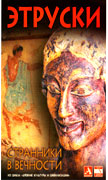 Track list : (click to donload MP3)
Credits:

Composed and orchestrated by Vyacheslav Serzhanov
Conducted by Sergey Skripka (1, 3-6) and Vyacheslav Serzhanov (2)
Performed by the Russian State Symphonic Orchestra of Cinematography
Recorded and mixed by Vasily Krachkovsky at "Mosfilm" studio, Moscow