"Florence: Following in the tracks of the Renaissance geniuses"
Agenzia per il turizmo di Firenze, Enit Italia, Altair-TV, Cultural association "New Acropolis", 2006

"Do you know what Florence is? Here everything seems to be full of light and joy, full of harmony, affability and beauty. In Florence there is something of the ancient eternal harmony, where everything is in its proper place, everything is needed and appears in wise conjunction"- the Russian traveller and writer Boris Zaytsev wrote about Florence. We love Florence for it is the city that gave the Renaissance age, and brought together its greatest masters, providing them the shelter, filling them the strength and blessing. Painters, sculptors, architects, poets, scientists and philosophers once settled in this city. As a result, the 15-th century A.D. turned up to be a century of the greatest miracles in the history of mankind.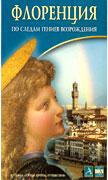 Track list
:
(click to donload MP3)
Credits:


Composed and orchestrated by Vyacheslav Serzhanov
Conducted by Sergey Skripka
Performed by the Russian State Symphonic Orchestra of Cinematography
Recorded and mixed by Vasily Krachkovsky at "Mosfilm" studio, Moscow