Ludwig Bavarian: Loengrin return
Bayern Tourismus Marketing GmbH, "Reise-Klinge-Berg, "Lufthansa",
Altair-TV, Cultural association New Acropolis, 2007

A noble envoy of the saint knight brotherhood arrived to save the princess's honour, in the response to her entreaty to the skies to send her a protector, as they say in the ancient legend. He was ready to become her husband provided that she must not never ask him of his name. She made him this promise. Peace and justice were set in the Land. But after some time the princess broke the promise and the forbidden question fell from her lips. The knight felt sorrow but a certain supreme law told him to get back to the place he had come from.

That legend about the swan-knight Loengrin was passed across the generations, with time. Nevertheless, the presence of hope can always be felt in it. The hope is that one day, the noble knight will return to Earth again.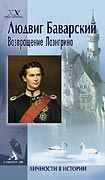 Tracklist: (click to donload MP3)
(All tracks are combined together as the single suite)
Alpine suite (film version) combined soundtrack
The Royal theme of Vittelsbach dynasty 00:00
The Bronze statues of Koenschwangau 02:28
The Alps 02:56
Swan Loengrin 03:30
The Crowning 04:18
The Royal speech 04:51
The Young King 06:02
Ludwig and Wagner. The staging of "Tristan" 06:35
The Triumph and the blame of the society 07:59
The Alps again. Dreams about the Castle and an estrangement of the King 09:25
The Castle under construction. It's Enigmatic decoration 11:11
The Schakhen House. Waking Fairy tail 13:26
King's dreams. Critic accusations. A Spiritual loneliness. 14:38
The Princess Elizabeth's theme 16:25
Noischwanschtein affairs. The mysterious death of the King. Rose on the water 17:28
Credits:

Composed and orchestrated by Vyacheslav Serzhanov
Conducted by Sergey Skripka
Performed by the Russian State Symphonic Orchestra of Cinematography
Recorded and mixed by Vasily Krachkovsky at "Mosfilm" studio, Moscow