Mitropolit Ilarion's "St. Matthew Passion"
Initiated by Alexander Matytsin, produced by Alexey Ivaschenko, 2009

The first performance of a new version of Mitropolit Ilarion's St. Matthew Passion was given at the Moscow International House of Music on 24 Nov 2009. "I am indebted to creators of this chamber version who have done a tremendous job and especially to the conceiver of the idea, Alexander Matytsin, vice-president of LUKOIL. It's him, who having heard the original version of The Passion over and over, suggested a new one catering to a wider audience.", - Bishop Ilarion said to the "Interfax-Religion". The new version of the composition differs from the original significantly. Some pieces are instrumented as Art Rock and Symphony Jazz wich gives an unusual sound to the word of Gospel. Unlike the original version which only employs solo performers, a choir and string orchestra, the chamber version also features a brass quintet, numerous percussion instruments, synthesizers, acoustic and electric guitars and church bells. A recording performed half a year after the first performance is thought up as a 2-part story accompanied by the gospel narrative, read by an outstanding actor A. Ivaschenko. Next are presented several pieces of the composition without narration.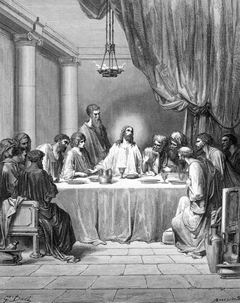 Track list : (click to donload MP3)
Credits:

Composed by Mitropolit Ilarion (Alfeev)

Arranged and conducted by Vyacheslav Serzhanov

Performed by the String Orchestra, The Brass-Quintet under V. Lavric and the State Tretiakov's Gallery Choir

Alexander Kostikov-Church bells, Arcady Ivannikov-ac. guit., Oleg Izotov-electric guit., Anton Revnyuk-bass guit., Alexey Kravtsov-drums, John Kukaryamber-perc., Vyacheslav Serzahnov-piano "Steinway", organ "Hammond B3", Rhodes-piano "Mark 2", synth."Oberheim", Alexey Ivaschenko-cantor

Choir, orchestra and piano rec. by Alexander Volkov (Mosfilm studio)

Rhythm, guitars, synth. and perc. rec. by Denis Urovsky

Church bells rec. by Andrey Lashkin (Moscow Bell Center)

Mixed and mastered by Alexander Volkov feat. Alexander Bolshakov