"Prague: Dream that prevailed over the time"
Altair-TV, Cultural association "New Acropolis", 2005

At all times in the most difficult moments of history amid destructions, wars, and ignorance, people kept believing that noble heroes will return. Medieval legends tell about the brotherhood of knights, the guardians of centres of light. They appear every time the darkness descends in order to restore justice in the world. A similar legend exists in the Czech Republic. From the beginning of time the Czech people believe in the legend about the return of the knights of Blunic. According to this legend, noble knights, the Hosts to St. Watzlav, sleep inside the knoll Blunic. When the most difficult times for the Czech Republic come, they return under the leadership of St. Watzlav to restore justice and bring the law back. Prague has seen periods when knights seemed to return embodied to those who managed to wake them up by the strength of that dream about the new city, the new epoch.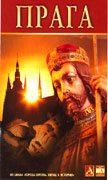 Tracklist: (click to donload MP3)
Credits:

Composed and orchestrated by Vyacheslav Serzhanov
Conducted by Constantine Krimetz
Performed by "Maestro" Symphonic Orchestra
Recorded and mixed by Vasily Krachkovsky at "Mosfilm" studio, Moscow